nemcok.sk >> Photoalbums >> Vieques Island >> Under water

Under the sea surface


Underwater life around the island of Vieques. Marine animals - corals, fishes, seastars, conches, rays, jellyfish, etc... But also seagrass, algae, ...

Total 63 photos+10 subalbums; Where is it?



x
| | |
| --- | --- |
| | Hover your mouse over a picture to get more info about the picture. Click on it to enlarge and get detailed information. |
Jaro's pictures from Blue Beach
Another sea cave and a shoal of small fish as a bonus
And closer look
Blue Beach the second time
Squid
Mosquito Pier
Flamingo tongue
There is a ray buried under the sand
Esperanza - squids under the pier
Plants in a sea garden? Not really! Corals.
Zvonec in Atlantic
Under the Old Pier of Esperanza
This is not an aquarium, this is Atlantic Ocean
Turtle in Bahía de la Chiva
Boxfish
Katka again met the big spotted eagle ray near the Blue Beach
Conch hunting at Green Beach
Lizardfish - Synodus saurus
...and a close detail
Mosquito Pier
Blue Beach
Lizardfish
Under water aroud the old pier in Esperanza
A shoal of fish deep beneath us
Stingray 'flying' just above the seabed
Mosquito Pier
Trumpetfish next to the feather coral
Eagleray - video
Nice catch - Huge red Atlantic starfish
Hawksbill turtle
Blue Beach the second time
Polyps
Detail of a Venus fan
Christmas-tree worm
Lizardfish - Synodus saurus
And yet Blue Beach
Close look to a boulder star coral - clearly visible individual polyps.
Another needle
Underwater tunnel near Navio
Spot-fin porcupinefish
Shoal of blue tangs
A marine worm
Big braincoral
Smooth trunkfish - Lactophrys triqueter
Trumpet fish
Black Hamlet
Barracuda
Big marine worm
Big sea trumpetfish
Big shoal of fish under the Old Pier in Esperanza
Katka with a conch
Mating flamengo tongues
Rayfish near Blue Beach
Jellyfish
Atlantic scorpionfish...
It's clear why it's being called a braincoral
Detail of a coral 'root'
Upside-down jellyfish on the sea bottom
Just under the surface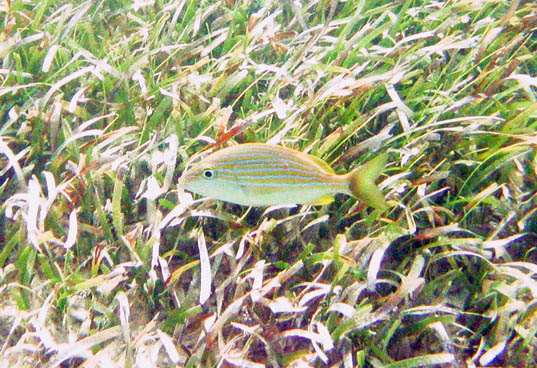 Katarína's pictures from Blue Beach
Tiny little sergeant fish above a white coral
Christmas-tree worms on a coral

Little box jelly

I also recommend the underwater video in Esperanza, but it takes a while to download.

For a complete guide to the Caribbean reefs, visit http://reef.florent.us/.





This album includes subalbums:
Under the sea surface - July 2006
July - August 2008
Mosquito Pier 2009
Blue Beach 2009
Underwater videos
Fish, fishes, fishies, ...
Corals, sponges, seafans, ...
Worms and such
Other underwater marine animals and creatures
Sea plants


Next Album: The Vieques Beaches




External Links:

Vieques Island -
satelite map,
Wikipedia
This page has been last changed on October 2012
48609 views since April 2007
Caribbean Sea Karibik Karibic Caribic, Caribik Carribean Carribbean Caribean Carib, tropické moria, and Atlantic Ocean Atlantik, Atlantick, more, alantic sea, around Vieques Island Karibik, karibský ostrov viekes biekes vieque vieke vieque wieque viequos viekos viekes IslaNena vieqies viesques wiegues, Caribbean, Caribic, Karibic, Caribik Vieqes wieques wiekes wieqes vieqes viequez vieaques viecques vieckes wiecques wieckes bieques Biéke viecues viekues vieskes viegues, "tropický ostrov", "tropical island" "Isla Nena" (islanena islan3na viequesisland), (Isla de Vieques, Biéke), Puerto Rico PR porto riko puetro ricoo na Portoriku z Portorika Portorický, Pto Rico estado de PR P.R. Puetro Ricko Puorto Ricco Puertorican Puerto Rican portorikói ptorico puertorico del Encanto, kolónia Estado Libre Asociado Isla Grande La Isla del Encanto Borinquen Boriken Borikén Boriquén Boruquén, Commonwelth Estado Libre Asociado Main Island Enchanted Isle ,, Stelleroidea Stellaroidea Anthozoa Chondrichthyes Chondrichthiomorphi, Under the sea surface, Pod hladinou mora
© 2000-2019 nemcok.sk
== Copyright Notice ==